"We help you perform better...in your world."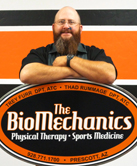 Thad Rummage,DPT, AT, is an Arizona native growing up in Prescott, Arizona. He is a graduate of Prescott High School where his interest began in sports medicine. He continued on at Northern Arizona University(NAU) where he received his Bachelors of Science in Biology and Secondary Education.
Read More About Thad
While at NAU, Thad received his education for becoming a Certified Athletic Trainer becoming nationally certified in 1995. He then went on to receive his Master of Science in Physical Therapy from AT Still University, Arizona School of Health Sciences.  Thad spent four years in Alaska in a hospital-based outpatient physical therapy clinic. There he was a general orthopedic physical therapist working with many injured on the "North Slope" oil fields. While in Alaska, Thad was trained in ergonomic assessments through Situs Inc. He began the hospital based ergonomic program. Thad returned to Prescott, Arizona in 2002. Thad furthered his education experience by receiving his Doctor of Physical Therapy degree in 2006 from A.T. Still University, Arizona School of Health Sciences. He worked for Yavapai Regional Medical Center (YRMC) in the outpatient physical rehabilitation clinic until 2009. During that time, he also was contracted by Embry Riddle Aeronautical University to provide athletic training services for its collegiate level athletic program along with Trey Furr, his partner in The BioMechanics Team. While working at Yavapai Regional Medical Center, Thad organized the rodeo sports medicine program along with Trey Furr. Their program serviced the local amateur and professional rodeo events as well as assisting the Justin Sports Medicine Team for the Prescott Frontier Days Rodeo. Thad has worked with all levels of athletes from grade school to professional athletes in football, wrestling, volleyball, basketball, rugby, baseball, track, cross-country, tennis, rodeo, and gymnastics. Also at YRMC, Thad further broadened his experience in the treatment of injuries and conditions related to aging. He gained invaluable experience in this setting working with total joint replacements of the hip and knee, as well as other orthopedic conditions such as rotator cuff injuries and back problems. Evaluating and casting for foot orthotics have become a special interest of Thad's to further enhance the physical therapy services he provides. Thad married a childhood friend from Prescott, Kendi, in 1994. They have been blessed with three awesome boys; JT, Jadon, and Jed. They are active in their church and in the AWANA program, a Christian youth program. Serving the Lord is the primary focus of their life. As a family, they enjoy horses, dogs, animals, hunting, camping, fishing, and hiking. Thad and Trey enjoy the challenge of helping people heal and rehabilitate from any injury. Because of their work and life experiences, they can work with people at any place in life: growing, playing, working, enjoying retirement, or maturing. Whether in the physical therapy clinic, on the playing field, rodeo arena, or in the game of life, the vision of The BioMechanics Team is to "… help you perform better in your world."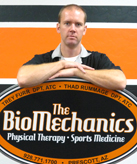 Jack C. Furr III or "Trey", DPT, AT, CSCS, as he is known to family and friends, is a native of North Carolina.  He has had the opportunity to live in many different states including Texas, New Mexico, and California before settling down in Arizona for the past 16 years.
Read More About Trey
He received his undergraduate training at Southwestern Adventist University in Texas prior to relocating to California to attend Loma Linda University for his Master's Degree in Physical Therapy, graduating in 1999.  While in California, Trey also received his Certified Strength and Conditioning Specialist Certification (CSCS) through the National Strength and Conditioning Association (NSCA).
Once he returned to Arizona, he worked full time as a Physical Therapist in both outpatient and inpatient settings for Yavapai Regional Medical Center(YRMC), simultaneously working on his Athletic Training certification via an internship program.  His sport experiences during his internship included basketball, baseball, cross country, volleyball, and soccer.  He completed his internship and became certified/licensed as an Athletic Trainer in 2004. Trey obtained his Doctor of Physical Therapy (DPT) degree from AT Still University, Arizona School of Health Sciences in 2009.
Trey has had multiple experiences in the physical therapy and sports medicine fields.  He has been a staff physical therapist and a Lead Physical Therapist for YRMC.  He and Thad Rummage, his partner in The BioMechanics Team, have been contracted with Embry Riddle Aeronautical University to provide athletic training services for athletes involved in wrestling, volleyball, soccer, and rugby.   Trey  enjoys evaluating and casting for foot orthotics helping athletes and the general population suffering from foot ailments.  Trey and Thad have also been involved in providing Sports Medicine services to local amateur and professional rodeo cowboys during Prescott Frontier Days Rodeo and Roughstock Explosion events.
Trey has been married to Janae, a Prescott native, since 2001.  They have welcomed three children into the family – Jaelyn in 2005, Jade in 2008, and Jaren in 2011.  His hobbies include classic cars, motorcycles, mountain biking, city league softball and basketball, shooting, and enjoys spending time with his family!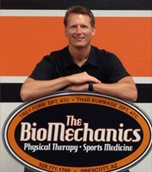 Chris Markey, DPT, MOMT, was born and raised in Buffalo, New York where he grew up active in sports, competing in ice hockey, soccer, football, bodybuilding and the martial arts. He obtained a Bachelor of Science degree in Physical Therapy in 1989 from Daemen College, Amherst, New York.
Read More About Chris
He then moved to Phoenix, Arizona and worked for Affiliated Physical Therapists, at Tempe St. Luke's Hospital, as an inpatient and outpatient staff Physical Therapist. He opened Mountainside Physical Therapy in 1991, located in Ahwatukee, specializing in orthopedic and sports medicine private practice.
Chris took a position with Yavapai Regional Medical Center from 1996 to 2001 as Lead Therapist, to head the development of Physical, Occupational and Speech Therapy services for Prescott Valley, and the Del E. Webb Center. Chris completed his Master of Manual Therapy (MOMT) degree through the Ola Grimsby Institue in 1997. This degree specializes in orthopedic manual therapy. Chris also became a Certified Strength and Conditioning Specialist while working with YRMC.
He then opened, and was co-owner of The Center for Physical Excellence, in Prescott, from 2001 to 2011. Chris worked directly with the Arizona Sundogs professional ice hockey team from 2006 to 2011 for all their physical therapy needs. He also worked with the Arizona Adrenaline indoor football team during their time in Prescott Valley.
Presently, Chris enjoys his personal time hiking, cycling, being outdoors and spending time with his daughter Alyson and son Alex. Chris has a personal interest in helping his patients return to their lifestyles, having had both hips replaced himself, and understanding the struggles of returning to and maintaining a positive lifestyle.
The BioMechanics Team enjoy the challenge of helping people heal and rehabilitate from any injury.  Because of their work and life experiences, they can work with people at any place in life: growing, playing, working, enjoying retirement, or maturing.  Whether in the physical therapy clinic, on the playing field, rodeo arena, or in the game of life, the vision of The BioMechanics Team is to "… help you perform better in your world."